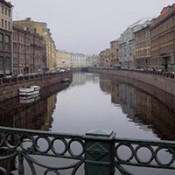 This installment of MusicalFossils is a series of e-mails written between Victoria (Vica) Achim, from Russia, and me. Most of them are hers. Vica is an adult amateur pianist studying in a culture where classical music is held in higher esteem than it is in the United States. Russia has (I do not know if this continues) a national system of musical education that seeks to find and develop the best and brightest young musicians as a national treasure, somewhat like athletes in the US.
Vica's letters cover a year's span of her growth and development as an adult piano student. Remarkably little is written from this perspective. Usually one has to achieve a degree of notoriety before the world listens, but by that time such recollections are written and read differently. Then they tell a more or less finished story. These are from the battlefront, before the outcome is decided. As a result, they do not form a continuous stream of narrative but are intermittent and depend on the writer's frame of mind at the moment.
They demonstrate that the centerpiece of any educational endeavor is the student. It is the student's ambition and goals that power any substantial advancement. No teacher can be this power for any sustained time. It is the student who must embrace the task ultimately. Only the student can synthesize all their available resources. The student must put together all the insights from teachers, practicing, listening, reading and from life in general.
Teachers are merely allies, important assistants in the student's journey. When students expect more of teachers, they never find their own voice. Unfortunately, some teachers don't understand this. These teachers think they should occupy center stage.
Vica is an active learner who draws from numerous resources. She talks of her different teachers who are useful until a certain point is reached and then she goes to another. (It's unusual that some of these teachers continue to help in less central ways as she moves forward). She talks about useful personal insights from friends and how they apply to her piano work. She watches videos and listens to others play. She goes to the web and finds useful resources there. She takes the responsibility for her own musical journey, as we all must.
Vica is unusually honest about the emotional turmoil involved in being a student. Some days she feels elated, some days she feels sad and worthless, some are just trudging along. All of these feelings are part of growing in any field and must be endured and recognized yet not become traps of despair or self-pity that hinder progress.
In these letters, the emotional life that Vica has in the world at large is the same as she brings to her piano study. This is true for all of us. All our strengths and weaknesses come onto the piano bench with us. Fortunately, the growth and understanding we gain in all aspects of life radiate into the others.
Vica presents an example and testimony to how the ideas contained in this web site might be useful to other readers. She has used the ideas and information from MusicalFossils in her own piano study and she has used them to inspire her own thinking and discovery. Nothing could please me more than to have my writing help ignite the imagination and progress of students who visit these pages.
11/15/02  Loss and Rediscovery
Dear Matt,
It is going to be a long letter because if I do not tell you the whole story, I will not be able to say what I want.
When I was a child it was obvious that I liked music. My parents took it seriously and bought a very nice piano. I remember that the process of selecting an instrument for me was so sophisticated that one could imagine I was a young genius. Meanwhile I was just an ordinary child fond of sounds. I was six years old.
I guess my parents put much less effort into finding a good teacher for me. Anyway my lessons started. At the beginning I liked them very much but in 3-years time I came to a state of extreme hatred towards my teacher, piano and music in general. Then I swore I would never touch a key on this piano monster.
At the age of 13, I suddenly discovered that I got spellbound whenever I occasionally heard some pieces of classical music. I began to listen to music as much as I could. I remember this time with fondness because the world of sounds became a world full of music and I could live there.
No wonder I came back to the piano.
The problem was that at my age people were graduating from music schools not entering them. So it was a difficult finding a teacher. It was possible to go to a music college but then it would mean that I wanted to by a professional. No one in the family could tolerate this idea and I surrendered. It could well be that I still feel guilty for this betrayal of myself. Anyway, I now serve two masters — music and my profession.
As an adult amateur I had four teachers and graduated from an adult music school in 1979. I was 24 years old. I felt I was a very experienced listener but that I could not play. The next 20 years I played piano just a few times a year.
In 1997 I met a lady who really changed my life. Nothing special but somehow she managed to tell me that things can be approached in different ways. I began to look into myself, to listen to myself. I became attentive to my sensations and I began to tolerate other people's sensations. In one word she introduced the idea that people are important. I am sorry to say that in Russia this idea is not very popular.
Two years ago this lady told me: "You should do something with the music because when you speak about it, your eyes change". I answered that it was too late and my broken hand hurt and I was too old etc. She told me she could see my point but I still had to try and she even suggested that she would go with me in case I was too scared.
I found a teacher and we started our classes on harmony once a week. My teacher was a very nice young man and we had nice discussions about music but I could not learn anything.
Meanwhile I met another teacher who was known for teaching adults. A. was the first teacher I was not afraid of. For the first time in my life I felt some tiny, little freedom while playing piano. Apart from our lessons we organized several meetings with A's other adults. These were very nice musical events. People felt free to speak there minds and had a chance to play to each other without limit.
This summer, thanks to A., I met a professional pianist who captured me completely by saying a few simple things like: one should trust his fingers and hands — they are so smart, too much control leads to tension, its majesty "the fingering" etc. I could not help asking her for a talk. We were talking and playing for three hours and at the end I asked her to teach me for a while. She agreed. Since A was my teacher I had to inform of this arrangement and there were very few hard feelings. Now I visit S., this wonderful lady, once a week for an hour and a half lesson and once a week we play four-hand music with A.
Now I feel happy. Why? What is so different?
I think I've changed. I am more human. It sound's weird but my love for music didn't make me human — on the contrary I was arrogant and judgmental. Perhaps this change explains why I finally found a human teacher. Now when I play Chopin's Etude in A flat, op.25 # 1 with S. standing beside me saying, "What a wonderful sensation it is to touch the keys and follow the waves of music!"
Thus I am encouraged and I cannot believe this is happening to me. Indeed, it is a wonderful sensation.
Yours,
Vica
3/20/03 Confusion about the Teacher
Dear Matt,
I read your new article on Musical Fossils and I really liked it. Sometimes I have questions but while I am waiting to write to ask, some of them become clear.
Anyway, I now am experiencing a real need for a teacher. You might be surprised because not long ago I told you that the teacher I had met in July was great. I do not know what happened but now I feel she is destroying everything we achieved during our several months. I thought I had the guts to survive somehow in this situation but now I see I cannot. It is beyond my abilities.
It could well be that I did something that turned the situation around but I do not know what that was. Today, as a student, I feel lonely. In addition to that, I kept silent for a long time and only Monday I told her part of my feelings. It was not an easy situation.
I discovered that I was wrong in being silent because the amount of untold dissatisfaction and frustration grew so high that I was not sure I was could engage in any constructive dialog. Now it feels absolutely impossible for me to be fully present at the piano because of my ongoing internal dialog about this situation. I am a sorry looking girl now.
It is so unfortunate that I have to go now. I hope I'll be back tomorrow.
Thank you.
Yours,
Vica
3/24/03 Teacher Confusion Continued
Dear Matt,
Today I did not go to my music lesson. I felt I needed a break and yesterday I called my teacher saying that I needed a vacation. I immediately learned a lot of things about myself from my teacher. She said I was an indecent person, one who says one thing and does another. She said I do not value human relations and do not keep promises. In other words, I did not correspond to my teacher's expectations at all. No, I did not. That is right.
Maybe my teacher may have expected too much of me. Maybe our mutual attraction in the beginning was that I hoped to prove I CAN PLAY PIANO and my teacher hoped to prove SHE CAN BE A GREAT TEACHER. This happy relationship lasted from mid July until November when we were a great teacher and an enthusiastic student. We had good results.
Later there was a moment when I felt I had achieved my goals and I lost part of my enthusiasm. I thought it was time for some serious work because I no longer needed to prove I could play. To my horror I began to understand that I did not know how to work seriously.
Here I refer to your article "Finding the Kinesthetic Feeling of the Keyboard" where you describe children's behavior at the piano. Believe it or not, that is my behavior – I play around and have fun. I am trying to "experience the sensations the piano produces inside my body." I am sure I have never done this before and I believe it is necessary. Yes, sometimes I feel guilty which is why I told my teacher I was at a loss.
I cannot remember any follow up.
Anyway I am really grateful to my teacher for her help, which was real. I am sure she has a great potential and I am sorry she thought I was her enemy because I felt unhappy.
Anyway, hope I will adjust to my temporary musical loneliness. However, I understand that it will be difficult for me to be without any teacher at all.
Vica
4/7/03  The Teacher Within
Dear Matt,
I am now in a bit different mood than I was when I last wrote. I feel much better and there are reasons for that.
I was afraid I would feel a possible vacuum without my teacher; I was afraid of being lost. Today I can say I feel nothing of the kind. I know where I want to go and I have an idea how to get there.
A couple of days ago I began to feel my body better, namely I can feel the parts of my body that touch the chair I'm sitting on. This sensation is very pleasant and it gives me a feeling of certainty, a base, and an anchor. Perhaps it is an exaggeration but it seems to me that being aware of this sensation could reduce nervousness.
Today I had a real return on this investment of playing around. It helps me learn the keys and the topology of the keyboard. My favorite key is f-minor so of course I know it best of all.
I worked a couple of days and became fluent in Chopin's Etude in F minor, Op.25, # 2. I cannot play it presto yet but I am sure I will be able to soon.
So, today I just feel great.
Vica
4/10/03 The Problem of Performance
Dear Matt,
Problem
I like music, I know music and I am devoted to it. However, it always feels like a nightmare when I play for people. I could say that I am not happy with the quality of my playing but the major problem is what I feel at the moment of playing. I feel fear, guilt, frustration and dissatisfaction. I feel myself being under a general anaesthetic –the sensation that I could not feel at all.
When I asked myself why, I usually gave simple answers like, "I must work harder" or "I must be less nervous." My answers didn't work and I formed an internal message: I CANNOT PLAY.
I cannot tell what keeps me going — my love for music or my disagreement with the statement I CANNOT PLAY.
Regular people and musicians who know me keep telling me I am gifted and encourage me to continue.
Perhaps I compared my playing with the masters and I surely did; but beyond that, I also l knew I envied everyone who looked comfortable playing the piano. I really wanted that for myself. What am I doing that makes me feel so uncomfortable?
With music I do what I sometimes do with favorite friends, I lose my sense of boundaries; I have a feeling of "interflow" that I cannot explain. I start playing and do nothing but interflow with the music.
And then I disappear as a person. My hands feel they are not needed. My ear feels there is nothing to do. It will listen to something else, for example, what is going on in the audience or the way my teacher breathes. My mind gives up its musical responsibility and is busy with separate thoughts like comparisons and judgments.
It is not possible to feel comfortable in such circumstances.
Experiment
A couple of weeks ago I put on a pair of knitted gloves and started playing. I was startled with the differences I saw and felt. First, I started to somehow feel my boundaries. I did not feel a desire or a need to interflow with the music. My hands felt wise and were responsible instruments to help me implement what I wanted. I felt most of my whole body. I felt ease instead of strain. I saw that my motions on the keyboard were reasonable, economic and beautiful. I could play definitely faster and clearer. The sound was deep and full of sense. And I felt so comfortable.
In a while I took off the gloves and played the same pieces. I felt less comfort, but when I could physically remember the sensation of playing in gloves, I achieved the same comfort.
What do you think?
Thank you.
Vica
4/23/03 From Matt to Vica
Dear Vica,
I think you've made two very big discoveries about your playing. Most students (and teachers) are unable to articulate what you have written here and many never discover it at all.
The feelings you describe when you're playing for others are all too familiar to me. I felt them for years and also seemed powerless to do anything about it. I believe it is called disassociation. It is better for me now because of my increased awareness of the sensations involved in my playing.
Also, I have learned to accept the fact that I will do what I can do in this moment and I can do no more.
The way I relate to your first discovery is from a book called "Playing and Reality" by a British psychoanalyst named Winnicott. In it he talks about children playing little games and making up fantasies while in the presence of their mothers. I begin to think that this early reaction with the mother types sets up a lot of our problems with performance.
Some mothers are always critical of their kids; some are totally neglectful, some are lavishly involved and take over, some so over react (good or bad) that the emotional pitch becomes way bigger than the game and fantasies themselves. But a few mothers can watch, be present, enjoy the child's play without interfering or seeing it as their own. Those children can explore their own sensations and emotions with comfort and confidence in front of another person, without fear. When we don't learn that, we learn something else and it causes loss of boundaries, excessive self-vigilance, fear, and results in an inability to be fully involved in our own task i.e. playing the piano, in the presence of another.
The performer's basic knowledge is the sensation of touch and sound. Most of us think so much that we pay way to little attention to these basic elements. What happened when you put on the gloves is that you introduced such a big change in the sensations that you had to pay attention to that. When you took off the gloves, you continued your attention to the sensation of touch and that is very powerful. That attention is the way to work on your old and new pieces.
Does this sound like I'm understanding what you wrote? I hope so. I, too, value our correspondence.
Matt
4/23/03 The Teacher Within, Continued
Matt,
I received your message on Monday. While reading it I was happy because I got what I wanted. It is hard to believe but in your message you were telling me things that I did not know when I wrote my letter to you but I had already learned before your message arrived.
When I put on the gloves I introduced such a big change in sensation that I had to pay attention to that. When I took off the gloves, I continued my attention to the sensation of touch and that is very powerful.
Before, I thought the gloves gave me a sense of protection and I just felt better. I went to my teacher and asked him to tell me if he observed or heard any difference. It was funny but it took about two hours to get a clear answer that he distinctively heard the difference. During these two hours he was trying to explain the possible meaning of gloves. We both came to the idea of protection.
In a couple of days I understood exactly what you told me – the sensation of fingers working all together as a team yet each one as separate as an individual.
On Monday I had more changes in my sensations and felt it was new progress but I didn't know what it was. Today I can articulate it. I felt as if my finger tips gained eyes. I also felt that the fingers on my right hand could see more than those on my left hand.
I must confess that I am very happy nowadays–so many discoveries and I hope there will be even more. I have fewer questions about what to do and how to do it. I know what to do in order to get right notes and right intensities and I can set specific tasks before my fingers, hands, ear etc.
Wonderful!
Thank you very much for your understanding and help.
My very best to you,
Vica
4/25/03 Experiments as Teacher
Dear Matt,
I am glad you tried this experiment with the gloves. I heard about it from my teacher S. and later I learned that Russian pianists know this very well. However, I did not try the gloves immediately because I heard about them making the pianist life more difficult. All the people I asked about it confirmed that. I was supposed to bear down the glove's resistance. (There is another trick to make the student's life a nightmare that is to play through a towel spread over the piano keyboard. I tried that too and, frankly, I hated it though it was useful.)
So, I put on the gloves only when I felt they would be my helpers and friends and not my enemies. It worked. My teacher A. was surprised that I could play anything with clear articulation. He thought the gloves would introduce restrictions in terms of the music I could play.
Other experiments I've tried are sitting at the piano on an inflatable ball and also playing on the table. These train flexibility and the internal ear. Changing from the ball for a normal seat and coming from the table to the piano were difficult because it's hard to readjust.
Afterwards it got easier.
My teacher S. told me to take something like a seed and press it between my fingers and a table surface. It was supposed to clear the sensation of the fingertips. In fact, I took a round bead and rolled it on the table's surface and it was very helpful for me. I think it might even reduce the tremor of fingers – they learn a greater sense of balance.
There are so many interesting things. I hope I will be able to understand the kinesthetic experiences on a deeper level.
Thank you and have a nice weekend.
Vica
6/23/03 — Performance as Teacher
Dear Matt,
A couple of weeks ago my teacher A. told me there would be a concert/exam of his and another teacher's students June 15. He asked whether I wanted to play too. I said I would think it over.
Frankly I felt very badly. It would be a long story to tell why I felt that way. On the other hand, I felt that if I didn't do this I would delay my development. I decided to play.
I last played for people 23 years ago. I was concerned that I now tried to play in a different way, namely, listening to my body and being aware of the kinesthetic sensations. It had some positive results but all the pieces I played were fragmented so the main task was to pull everything together. I realized that I could be ready to play the following music: Bach's Little Prelude C minor, Sinfonia A minor, and Sinfonia G minor, Lemoine's Etude G major, Vivaldi's Siciliana D minor; Louis de Narvaez's Quatro Differencias on "Guardemo las vacas'," and Cimarosa's Sonata in G Minor.
I decided I would do my best to prepare this program but as to the performance, I would let myself stop anywhere if I felt I needed it.
Despite the volitional behavior I had to apply, I enjoyed this time of my preparation for it was very productive. I had very clear goals but I did not break my neck trying to achieve something special. I was nervous like hell but I can say that the better I could cope with my own sophistication, the less nervous I became. My teacher A. helped me a lot – we spent two, three-hour sessions together. That was a real pleasure.
Well, one way or another, on the 13th on June I did what I planned. I had good reactions. I had strong sensations at the piano and I surprised myself. I do not know how it happened but from the very first note I played to the very last one, I had absolutely clear musical thoughts and hearing. I realized everything I was doing in terms of music. I had no doubts what to do and where to go next. It was so new and so nice that many times I felt that "music was playing me" (Kate Kimball). Sometimes I even felt my body very well. Unfortunately, I could not cope with the tremor of my fingers. It was a surprise that this tremor did not destroy the music – I just had to play with such fingers. I would have never expected I could play the way I was playing.
I was one of ten people playing that day and I recorded the whole event. I listened to my part many times. What I heard was not a surprise. There were good things and things to be improved. However, gradually I realized that I could not accept the fact that this recording was the best I'd ever made.
Who do I think I am? Why don't I want to be who I am?
To tell the truth I am happy I did this. I learned I am going in the direction I want and I have made progress. I know where to go next.
Thank you for listening.
Yours,
Vica
7/6/03  from Matt to Vica
Hi Vica,
I think what you have done in retaining your kinesthetic sense in performance is quite remarkable. You haven't been working on it that long and yet you held onto it in front of an audience. Congratulations.
But something even more impressiveness strikes me.
You have looked at your musical history and found fault with your past teachers and your parent's choices. It came close to costing you your love of music and of piano. You have acknowledged this history, been angry about it, and most importantly, decided to not let the past faults of others get in your way. You did not say, "Oh, poor me, look what all these horrible people did to me. Now I have missed my chance and
I'll never be able to play and it's all their fault."
You accepted your history, worked with that history, put it aside, and moved on. That's the best we can do in this very imperfect world. Too often people try to pretend the history never happened or use it to excuse their own further effort. I think you deserve great credit for handling your musical life the way you have.
Further, you took responsibility for you own musical education. Too often people put their lives in the hands of a teacher and surrender responsibility to that person. It doesn't work in the long run and, unfortunately, it's exactly what we teach our children to do. You understood piano as your task and you used a great variety of resources to further your work. It offended some teachers, as I recall, but you were right.
I frequently feel the piano is like one of the martial arts of the East. It involves complicated skills and if the piano skills are learned well, people play well. At another level though, it offers glimpses into a spiritual world much larger than the discipline itself. I suspect you know what I mean.
Be well,
Matt
7/8/03 The Complications of Compliments
Dear Matt,
Everything you said to me sounds like a compliment and it doubles my pleasure when I realize that you are not just being nice. I remember being a little girl, running quickly to the piano in the very early morning, still in my nightdress. Why? I had no idea how to play. I don't know the answer to this question. I guess I did it just to feel the touch. In over forty years I came back to this wonderful sensation of a touch that I was deprived of for so long. It's true because now I enjoy most of all my physical sensations. And the more I enjoy them, the better my sound becomes.
Isn't it amazing that we're capable of developing our talents even long after our student days?
I must confess the word "responsibility" made me flush. I know that I am rather more used to control than responsibility. Why am I looking for teachers? Sure, to transfer responsibility… and perhaps to control them. Does it make sense? I think the question of responsibility in life in general and music in particular is very problematic for me. However, it seems to me that I have an idea about what that responsibility could be.
I don't remember if I told you that professionally I specialize in corporate finance. I also do consulting. The latter tells me that rarely does an organization asking for help in financial areas have a financial problem. Usually it turns out that the nature of problem is human – management, responsibility issues, motivation, trust etc. Only after this does it affect finance. I am telling this because recently I felt the difference between my piano problems and my personal problems result from the same thing – I do not like my playing. It is very important not to confuse one with the other for the ways of working with different problems are different. I am not sure I am being very clear, so I will try to give am example.
I was working on Chopin's Nocturne. I did not like the way I played it. I understood I could not "sing" the bass part. I began to work on this particular problem. Since my teacher was going in and out of the studio, the door was open. (A year ago I would closed the door or not played).
Little by little I began to feel better with my left hand and I played around with both hands singing.
Suddenly a young lady appeared in the doorway and said,
"How nicely you are playing." I turned to her and said, "Thank you." (A year ago I would say "No, you are wrong, my playing is awful etc.")
She left, I continued my practicing but I felt a change. It got worse and worse. I felt disturbed and uncomfortable. I stopped for it would be waste time to continue. Later I analyzed what was going on.
Before the lady's intervention I was simply doing my job and I was just myself and I was enjoying both myself and my work. I can imagine I looked involved, quiet and very easy. That was impressive for others and comfortable for me.
After "How nicely you are playing," which apparently shocked me, I probably decided I had to correspond to a certain level of performing. My attention abandoned both the music and myself and it joined my super ego. I already know that it is impossible to satisfy my super ego and no amount practicing will ever please my super ego. It reminds me of my own experience when very little practice or even no practice at all resulted in real development.
What do you think? Thank you very much.
My best to you,
Vica
11/28/03 — Life Goes On
Dear Matt,
As for piano issues, I must say, things are happening all of the time. There is hardly a day when I do not feel something new. Sometimes I cannot understand what it is and I cannot follow it. A while ago I decided that I would write it down in order not to forget but in vain. It is a pity because I think I can start writing a book about possible changes in the adult body as it lives in the piano.
The recent change was a new sensation in my fingertips. Definite and certain but it took me several days to feel the cause. Perhaps it is only my impression but I think my elbows came to life. I need some more time to experiment.
Another thing is that now I am able to read the pianist body's language. I watched Sviatilav Richter's video recordings many times and I saw nothing. Now I feel I can understand what he is doing. And while watching and listening, I feel that something is going on with my own pianistic body sensations. Amazing.
Yours,
Vica
Epilogue
While Vica and I still continue to write, what has been included here is the best representation of how I hope people use this site. I can only hope that everyone who visits will find it just as useful.